Radio in the '50's. What a wonderful time it was! World War Two was finally over, we had come out of the Depression.........and one of the things that had informed and comforted us throughout it all..........was getting BIGGER... and more personal: RADIO!

And just think....15 year old Ed Myers....and lucky youngsters like him all over the country....were experiencing the thrill of having their voices magnified and sent to homes throughout their communities........

"There may be thrills greater than that, but I don't know of any of them." -Ed Myers/Lee Shephard

Ed Myers began his career in broadcasting in Charlotte, NC at WGIV....one of those many "independents" that popped up after WW2. Those were "go go years" for just about everything, particularly radio. There weren't enough Networks to go around....so all those new stations started playing records...all day long. It was very "different" at the time....Imagine, music ALL DAY LONG! No soap operas, no dramas...."Music, wherever you go!"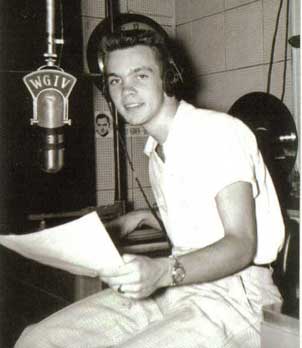 Ed Myers
It wasn't long before DJ's began to rule the airwaves. Television was coming along then .....and that killed what was left of drama on radio. Playing records on radio....was very successful.....so thats what everybody did during the 50's and 60's.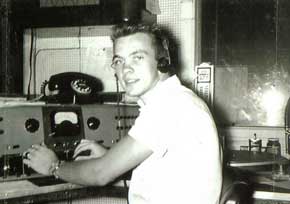 WGIV in 1951
The station was founded by Francis Fitzgerald. The call letters stood for We are GI Veterans.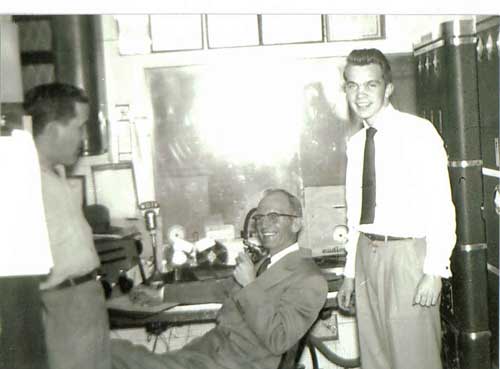 Bernie Prewitt, Francis Fitzgerald, Ed Myers.
Francis Fitzgerald was a far sighted man who played an important role in many of the projects that were part of the fantastic growth of Charlotte during those first years of the post war period. WGIV's role in the good race relations enjoyed by the people of Charlotte during the 50's and 60's was VERY significant.
Mr. Fitz, as we all called him, was the kindest, most respected broadcast executive that I've ever known.
The morning hours in those years featured Genial Gene, Chatty Hattie, Eric Dehlin and Johnny Surratt. Ed Myers took over in the afternoon from 3pm til signoff (which was sundown since WGIV was a daytime station.)
JULIAN BARBER and ED MYERS
interviewed on TV in the early 90's
Nationally known broadcaster OWEN SPANN who recently died, also worked for WGIV. He was there in the late '40s. His show was called, OWEN SPANN, THE MORNING MAN.
Ed AND Owen....were in high school when they worked for WGIV.
As this article from the
Charlotte News
of 1953 shows, Myers' days at Central High were quite busy.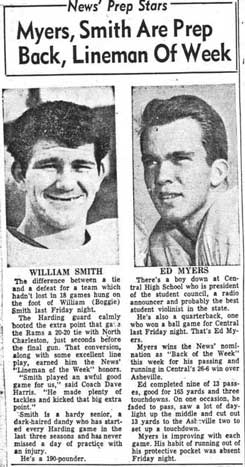 WGIV's success
was due to...not only the fact that it was the first and only independent station in Charlotte...and was playing music all day long (it was a daytimer....sign off was whenever the sun went down) but....WGIV was also the FIRST station to openly appeal to the blacks of the area. Genial Gene was a dynamic, natural showman.....who left his job as principal of Billingsville Elementary school to become the most popular morning radio personality in Charlotte. He was one of the "Original 13," the first group of full-time black radio announcers in the South. Once Genial Gene became established.....the future of WGIV was assured.
In the 50's WGIV's on air staff was totally integrated: half white, half black. Some of the names of the times were: Chattie Hattie, Joy Boy, Friendly Frank (that was Fitz..when he occasionaly filled in) Eric Dehlin, Johnny Surratt, Pete Toomey, Henry Poole, Julian Barber.....and of course, the chief engineer, Bill Lineberger.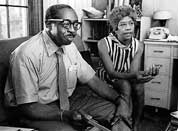 GENIAL GENE
(Samuel Eugene Potts)
The music being played then was of the standard variety....and WIDELY varied. In any half hour segment you might hear anything from "top pops" ("top forty" hadn't been heard of yet) to popular standards to rhythm and blues (the term "rock and roll" hadn't been coined yet either)...to an occasional hymn. Cleveland DJ Alan Freed is credited with popularizing the term "rock and roll," but it's unclear where the term came from. One of the best guesses, in my opinion, is that it's from a 1951 song called "60 Minute Man" by Billy Ward and His Dominoes; they sang, "I rock 'em, roll 'em all night long"......you get the drift. Similarly, the etymology of the word "Jazz".....also had it's roots deeply embeded in ...shall we say.....basic human desires and fantasies.
Remember, everything was still aimed at the "general" audience in America. The movie ROCK AROUND THE CLOCK...with Bill Haley....was the first movie that was aimed at a "target" market. That came out in 1954. Gene's selections leaned heavily in the rhythm and blues and gospel genre.
Chatty Hattie (Hattie Leeper) Now in the Black Radio Hall of Fame





AND................WGIV SIGNS OFF

AM stations have been struggling for a long time now...since FM began dominating the radio waves in the early 80's. Many have "bitten the dust," and the first of December, 2003.......WGIV signed off for the last time.

The Charlotte Observer paid tribute to WGIV's groundbreaking accomplishments in race relations and highlighted its importance to the entire community over its lifetime.

I was honored to be remembered along with two of my "heros" in the broadcasting industry, "Genial Gene" Potts and Julian Barber....in a letter to the editor.......by one of the outstanding leaders of the Charlotte community, Obie Oakley.





(May I digress for a moment...........)


The good folks in Charlotte, NC will immediately know what I'm talking about....provided they're old enough to have been around that town in the 40's...but for the rest of the world......

There was a hillbilly band that broadcast on WBT....called THE BRIARHOPPERS. Every afternoon at 4:30....a voice would ask....."Do you know what time hit is?"................"Hit's BRIARHOPPER time!" That would be followed by the band striking up "Wait til the sunshine's Nellie......and the clouds go drifting by........"

Briarhopper time is arguably the main reason for the great sucess of WBT in the golden years of radio. (The other reason was, of course, CBS.)

"Whitey and Hogan"......on guitar and mandolin.......were two of the primary mainstays of the Briarhoppers.....and at this writing....two of only three original Briarhoppers still living.

Personally, I fell in love with radio......listening to the Briarhoppers as a five year old kid.......so, imagine the thrill I received when I happened to meet Whitey...(Roy Grant)...quite by accident recently.

I think part of me is still 5 years old. And I like it that way.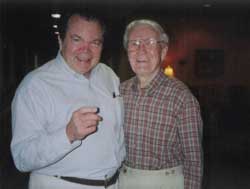 WCHL Chapel Hill North Carolina
WCHL was one year old when Ed joined the staff in 1955. He replaced Charles Kuralt...who decided to devote all his spare time to the DAILY TAR HEEL.....the student newspaper at the University of North Carolina. He had become editor....and as Kuralt stated in one of his books....being editor of that small paper...and watching it roll off the press each night....was the happiest time of his life. Ed joined Charlie at the DTH as a reporter.
CHARLES KURALT
at the editor's desk of UNC's DAILY TARHEEL
WCHL was a rather exceptional local radio station...mainly because of the large pool of talent available from the huge student population in the town of Chapel Hill. Sandy McClamroch owned the station and was known for his kindness to everyone who ever worked for him. Sandy was always one of the most respected business owners in Chapel Hill, and later served several terms as Mayor.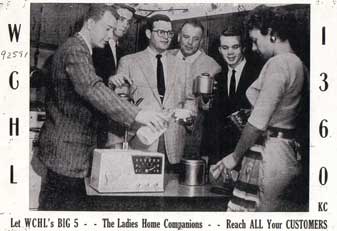 Ty Boyd, Barry Clark, Hank _________, Big John, Ed Myers, Patsy Owens (above)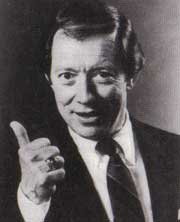 Ty Boyd
later replaced the legendary Grady Cole as Morning Host at WBT in Charlotte. Ty went on to become one of the country's leading motivational speakers and media trainers. (Photo courtesy of Alexa Press, publisher of VISIONS by Ty Boyd)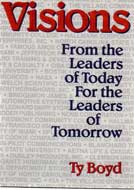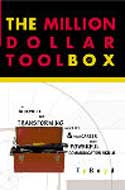 .



Ty and his wife Pat are still teaching..and motivating....many top executives...and future executives..at the Excellence in Speaking Institute in Charlotte. Boyd's new book is called,
Million Dollar Toolbox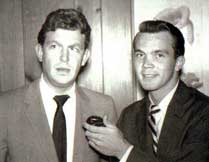 Andy Griffith and Ed in Chapel Hill.......1958
WSOC-TV
Charlotte
1958
Ed was the first
regular
11pm news anchor for WSOC-TV. (Prior to Ed's arrival, the duty was shared by various announcers.) After at least a 10 year head start, WBTV (word on the street was it was given those call letters instead of WBT-TV because saying "TT" was not considered proper in mixed company) WSOC-TV, an NBC affiliate, admittedly played second fiddle in the ratings. The first president of the station was Larry Walker who was well known as a pianist....for several popular musical groups...one of which was the Johnson Family Singers who were mainstays on WBT's golden days of radio....along with the Briarhoppers and Arthur Smith.
Bob Provence came down from Cinncinatti as program director. An announcer named Brooks Lindsey dressed up as "Joey the Clown".......and became perhaps the best loved children's performer in the country. Jimmy Kilgo, who had a huge audience of young people when he was with WIST radio in Charlotte, brought his act to TV and was an immediate hit on local TV.
In 1961 Ed Myers joined
WTOP Radio and TV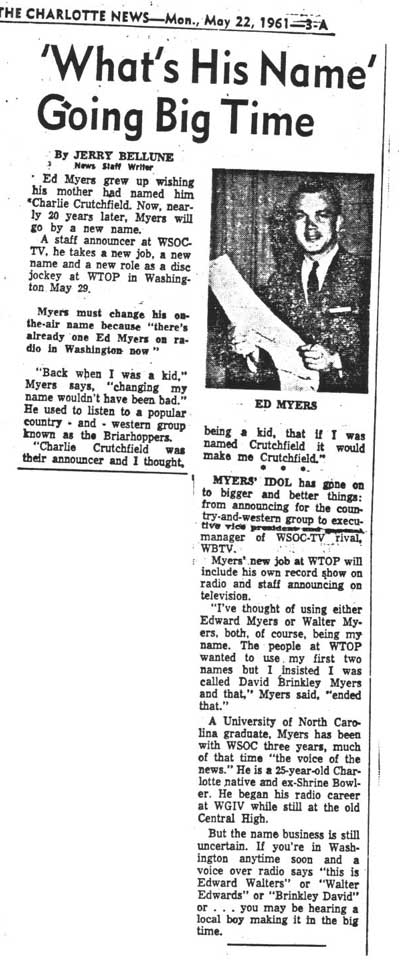 ..................................and became
LEE SHEPHARD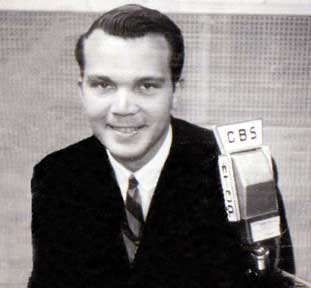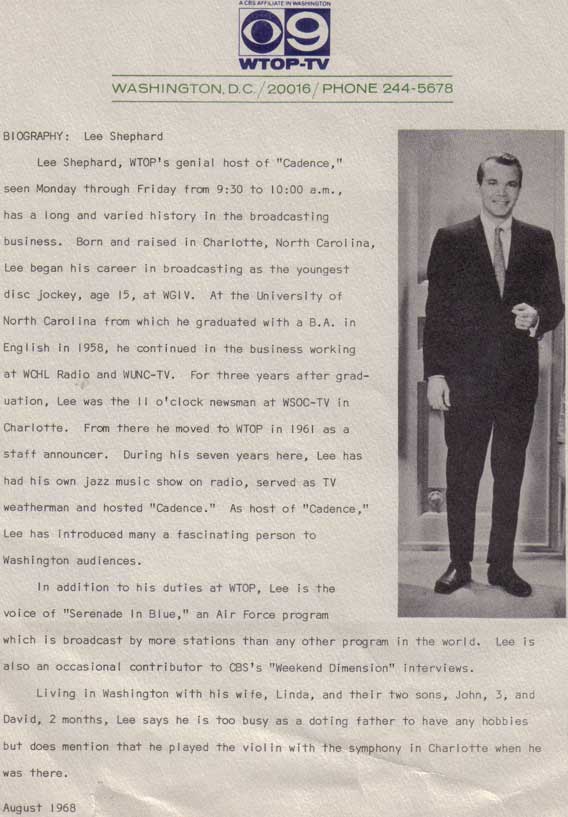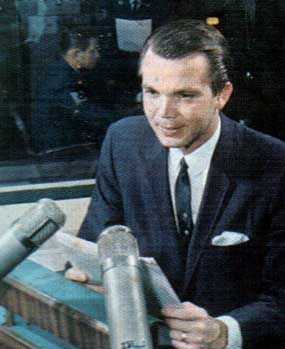 From United States Air Force's Serenade in Blue album jacket....1965
Be sure to take a look at the archives (in the box in the upper right hand corner of this page) and click on other related topics .